Accessible travel information for Translink services, Disability Action Transport Service and Community Transport.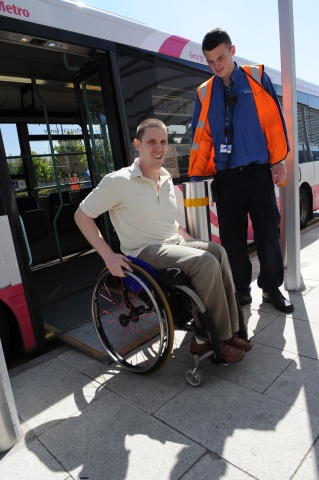 We can help you by providing you with information on the range of accessible transport services that are available and signposting you to the organisations that deliver these. We also can help you if they have an issue with your accessible transport provider by providing you with information about your rights or helping you resolve your complaints.
Translink Services
All Metro (Belfast Buses) services are operated using low floor, wheelchair accessible vehicles. Each now have visual displays and audio announcements so passengers know which stop is coming next. All trains are easy to board and many stations have step free access. However, some stations and some Ulsterbus and Goldline vehicles do have steps. If you need any assistance when travelling call the Translink contact centre (028 9066 6630) at least 24hrs before you travel to ensure you can get the information and assistance that you need. 
Translink has an 'Access Guide' which sets out the current service levels for passengers with a disability or reduced mobility. It also has a 'Facilities Guide' that provides information on the facilities at stations and halts. These guides are available on Translink's website at the following link http://www.translink.co.uk/accessibility/translink-access-guide/ you can also request a copy from the contact centre on 028 9066 6630 or by emailing feedback@translink.co.uk 
Disability Action Transport Scheme (DATS)
The Disability Action Transport Scheme provides a local urban transport service for people living in towns or cities who find it difficult using public transport services. It used to be known as the Door-2-Door service. 
You must become a member to use the service, membership is free but a fare is charged for each trip taken. To become a member you must meet one of the following criteria:
Be registered blind;
Be aged 80 or over;
Receive the higher rate of the mobility component of Disability Living Allowance;
Receive the higher rate of the care component of Disability Living Allowance;
Receive the enhanced rate of the care component of Personal Independence Payment (PIP);
Receive the higher rate of the care component of Attendance Allowance; or
Have a doctor's or health care professional's confirmation – if you have a health care professional (for example, a social worker, occupational therapist, or specialist nurse that knows you), you can ask them to write a letter to support your application.
You also need to live in one of the Membership Catchment Areas of service. Members of the Door-2-Door scheme automatically transferred to DATS.
For further information contact Disability Action using the following details:
Website - http://www.disabilityaction.org/services-and-projects/transport-services/ 
Telephone - 0845 608 5555
Email - transport@disabilityaction.org 
Textphone - 028 9029 7882
Community Transport
Community Transport provides accessible door-to-door transport and group travel services to community groups, older people and people with disabilities on a non-profit making basis throughout Northern Ireland. Community Transport operators are located in most parts of the country, including urban and rural areas. 
Community Transport services are focused on individual needs, providing transport using minibuses and volunteer car drivers.
Details are available by calling 0845 650 1190.