Transport
07th September 2020
We can help if you have had a delay or cancellation, by providing information about your rights or helping to resolve complaints with airlines and airports.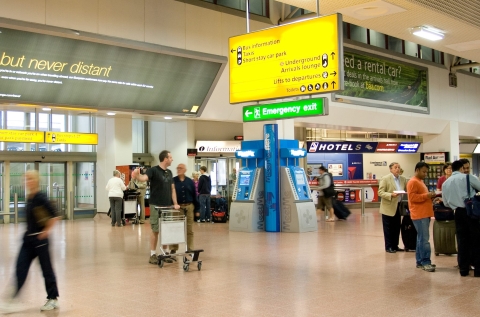 We provide information and help to air passengers who require special assistance when travelling. We also provide you with information such as airline additional charges to allow you to make informed decisions when arranging travel.
Complaining about an airline or airport
If you are not satisfied with the service you receive, contact a member of the airline or airport staff. They may be able to resolve the problem at the time of travel.
If the airport/airline cannot resolve the problem at the time of travel put your complaint to them in a letter or an email detailing what went wrong.
The Consumer Council has a number of template letters to help you with common types of air travel complaints. Click on the links below to download the letters.
Not happy with the response or would like more help? Contact The Consumer Council by telephone 0800 121 6022 or click here.
Template letters above are Microsoft Word documents and will automatically download to your device for you to add your own information. If you need the Word document translated or read aloud, click here to add 'Read&Write' software to your device. This is supplied by Text Help. If you need any further support with this software, click here to contact Text Help. 
Air Passenger Rights
If your flight is delayed, cancelled or you are denied boarding you are entitled to assistance. This usually means food, drink and access to communication (this could be refunding the cost of telephone calls) and if necessary accommodation. In certain cases you may also be entitled to a fixed amount of compensation, shown below. You will not be entitled to compensation if the reason for the delay or cancellation is outside the airline's control.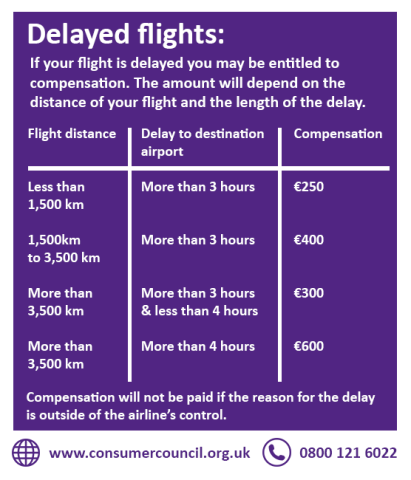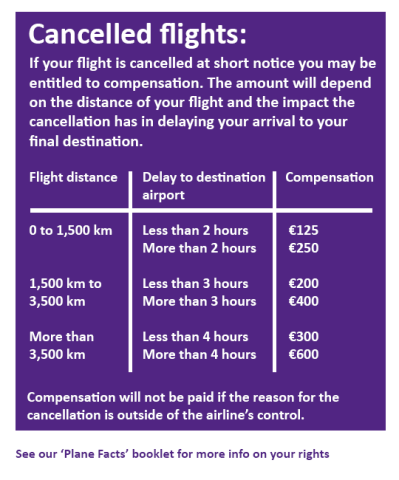 Special Assistance
All airports and airlines in the European Union are required to provide assistance to passengers with a disability or reduced mobility. 
All types of disabilities are covered including hidden disabilities such as learning disabilities, autism and hearing loss. A passenger may have reduced mobility because of their age, an illness or a temporary injury, for example a broken arm or leg.
You are entitled to assistance at all stages of your journey, from booking your ticket, checking-in and boarding the aircraft, right through to leaving your destination airport at a designated point (eg airport car park, train or bus station or a connecting flight). 
The special assistance must be provided free of charge.

You should request assistance at least 48 hours before you travel to ensure all assistance needed, including any relevant equipment, is available.

An airline can only refuse a booking if the size of the plane or its doors prevents a person from boarding, or for safety reasons, for example, if a passenger who intends to travel alone is unable to fasten or unfasten their seatbelt unaided.
For more information on the assistance available, your rights and responsibilities including how to request assistance when travelling by air download a copy of the Consumer Council's guides below or telephone us on 0800 121 6022 to request a copy.
Travel Factsheets
We also have factsheets on particular issues that may arise when travelling by air so you know your rights.
Financially Protecting Your Holiday
The vast majority of journeys will take place without incident. However, when travel plans are disrupted it can have a significant financial and emotional impact on consumers, which is why so many consumers take out travel insurance. Insurance provides vital protection against the impact of something going wrong. Read more about travel insurance and ATOL Protection by clicking on the links below.
Scheduled Airline Failure
If an airline fails it can be a very worrying time for passengers. Your rights will depend on how you booked and paid for your flights. 
Booked directly with an airline
Customers who bought their tickets separately with a personal credit card may be able to claim their money back from the credit card provider under Section 75 of the Consumer Credit Act. To be eligible, you will need to have paid more than £100 for your flights. If the flight was cheaper, or you used a Visa debit card, you may be able to use the 'Chargeback' scheme that card issuers are signed up to.
Booked through an airline ticket agent 
You should speak to the agent in the first instance as they may have provided travel insurance that includes Scheduled Airline Failure Insurance (the type of protection provided may vary depending on the type of policy taken out).
Booked with an ATOL certificate holder
If you bought your flights as part of a package with an ATOL travel firm and received an ATOL certificate you should be ATOL protected. Contact your travel firm for more information.
 
Airline Additional Charges Table
Some airlines have additional charges for a range of extra services including checked baggage, priority boarding and seat reservations. Click here to see these charges at a glance.