ScamwiseNI Partners help 7,000 vulnerable people in Northern Ireland to spot scams
A number of Northern Ireland organisations have joined forces to provide 7,000 of the most vulnerable in society with helpful and essential advice regarding scams.
ScamwiseNI partner organisations including the Police Service of Northern Ireland , The Consumer Council and Libraries NI, have teamed up to create essential advice packs that will be distributed over the coming weeks. Each pack which will provide important and helpful information about how to spot a scam, including the Little Book of Big Scams, the Little Book of Cyber Scams and COVID-19 scams advice leaflets designed by The Consumer Council.
Chair of the ScamwiseNI Partnership, Chief Superintendent Simon Walls, said: "Unfortunately fraudsters are using the COVID-19 pandemic as an opportunity to target some of the most vulnerable within our society.  The ScamwiseNI Partnership wants to do all we can to ensure that people are scam aware and that is why we have been working in collaboration with Libraries NI to distribute the 7,000 Scamwise boxes.  We hope the boxes will provide vital information to those individuals who may be house bound or are shielding so they can become scam aware."
Paul Kelly, Senior Information and Learning Services Manager at Libraries NI, said: "There is clear evidence that scams have been on the increase during the pandemic and many people are struggling with unwanted calls and emails. To counteract this, each organisation has used their expertise to contribute to these essential advice packs for people in the community. Libraries NI will carefully distribute 7,000 of these information packs to our customers in local communities through our unique Book Box delivery service."
Noyona Chundur, Chief Executive of The Consumer Council, said: "Our research shows that less than half of the Northern Ireland population know where to report a scam, which is concerning as 40% of the population has been targeted by a scam in the last three years. A large number of the scams are happening online and Northern Ireland has the lowest levels of digital literacy in the UK. Therefore, it is important for us to support Libraries NI's initiative that engages and educates some of the most vulnerable consumers in an accessible way."
For further information on scams, including how to report a scam, visit www.nidirect.gov.uk/scamwiseni or follow the ScamwiseNI Facebook page www.facebook.com/scamwiseni.
Image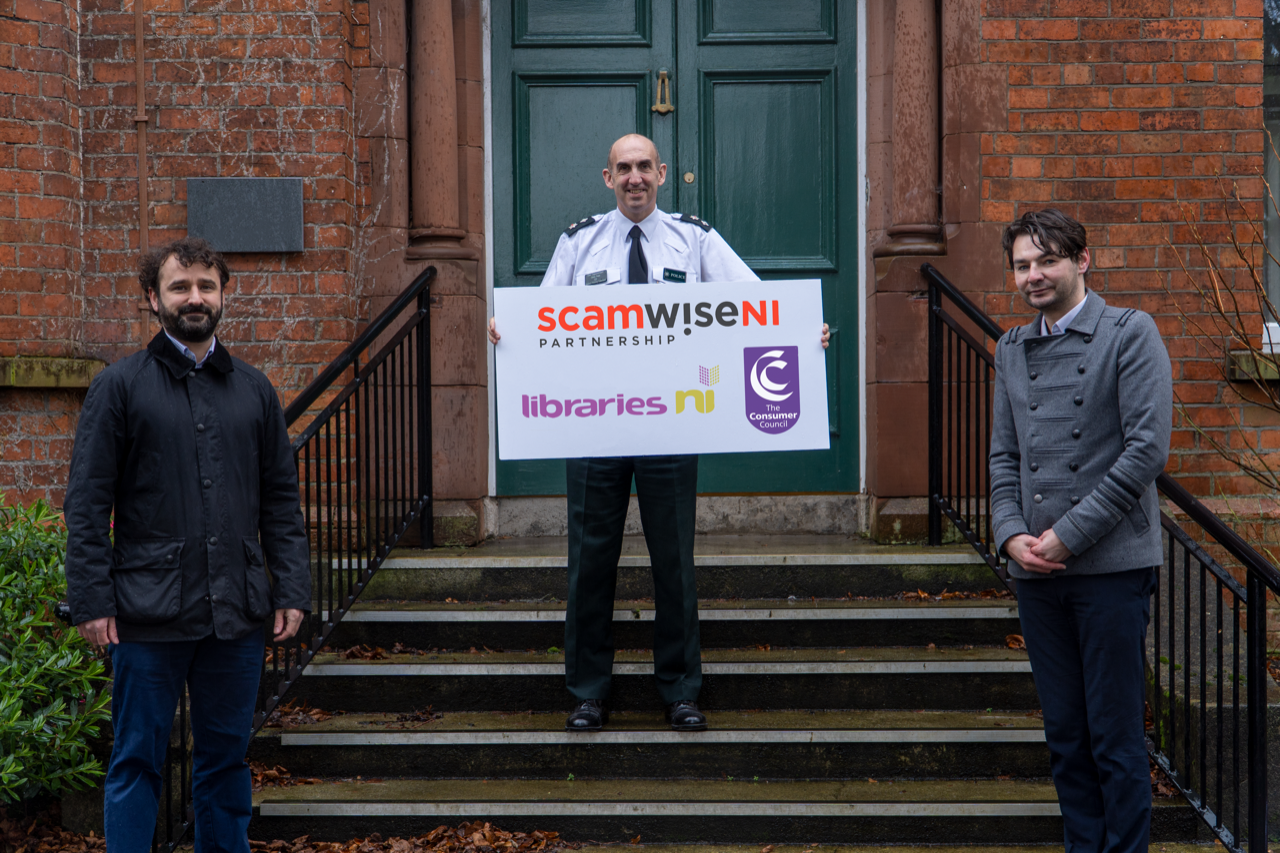 Caption
Libraries NI, PSNI, The Consumer Council