Water Champions Case Studies
The following case studies show the different approaches our Water Champions have taken to increase water efficiency and reduce their water and energy bills.
Did you know that making savings in the amount of water you use in your business can lead to substantial financial savings in your annual water bill, increase profits and benefit the environment?
There are a number of ways to become more water efficient, such as replacing old leaky pipes and equipment, raising awareness amongst your staff and improved monitoring of water use. We hope the following case studies will provide ideas for your own Water Champions action plan.
Glandore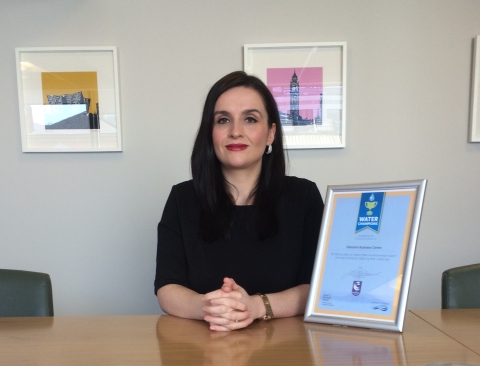 Type: Business Services 
Location: Belfast
Glandore provides serviced offices for a variety of customers. The team at Glandore worked with the Consumer Council to reduce their water consumption by making simple and low cost changes to the existing infrastructure, and changing their approach to managing water use.  This included:
Completed a water health check of the premises;
Installed sensor operated urinal controls;
Quickly repaired running toilets and taps;
Carried out regular servicing on filtered water taps;
Put in place a water risk management plan;
Sought advice from the Consumer Council on reading a water bill and reducing consumption;
Installed pulse action shower heads in the in-house showers ; and
Took regular readings of water meters and cross referenced these with bills.
Benefits:
This smart, simple approach has led to savings of about 7,000 litres of water or £20.00 per working day; and
Typical daily consumption per person is less than 50 litres.
Coca Cola Hellenic Northern Ireland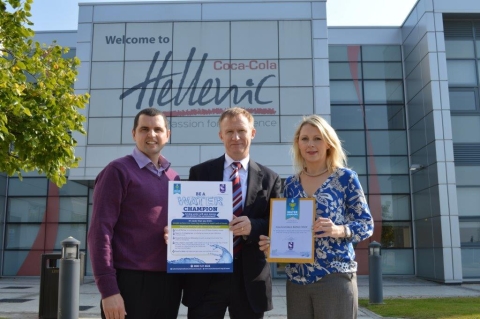 Type:  Beverage Industry
Location: Lisburn, Co Antrim
Coca Cola Hellenic Northern Ireland based at Knockmore Hill, Lisburn has the capacity to produce 1.5 million litres of beverages each day. Water is sourced mainly from boreholes as the company strives to reduce the amount of water required from the mains supply.  The company has excellent water stewardship credentials, both internally in terms of production processes and externally at community level. This commitment to water stewardship led to Coca Cola's listing as a world leader in sustainability by Dow Jones Sustainability Indexes for the sixth consecutive year. The company has been awarded Consumer Council Water Champion status having taken the following water efficiency steps:
Water meters are included on all sources and regularly calibrated.
Water meters are regularly monitored to quickly identify leaks.
Monthly water use targets and a long term 2020 water target have been set to continue to strive for water consumption reductions where feasible.
There is a strong emphasis on measurement; water use is monitored in a ratio based on how much beverage is produced.
Water re-use projects have been implemented such as rinse water from the bottle washer being captured and used again in the case washer.
Sensor taps have been installed in the hand washing facilities and sensors on the toilet flushing facilities.
The line lubrication was changed from wet to dry or semi-dry to save water.
Workplace environment champions were appointed who carry out water audits to identify opportunities for water reduction/re-use.
The bottling plant has an on-site wastewater treatment plant.
All water returned to the natural environment is treated to a level that is suitable for use in agriculture as well as supporting plant and aquatic life.
Ongoing partnerships with Keep Northern Ireland Beautiful and A Taisce, the Heritage Trust for Ireland in relation to the Clean Coast program.
Internationally, Coca Cola Hellenic Group is a founding signatory of the CEO Water Mandate and works with the Water Footprint Network.
Education in sustainability and the need for water conservation is included in public tours of the bottling plant.
Benefits:
Leaks were detected and dealt with more quickly through regular monitoring.
Reduced consumption from borehole supplies helps conserve the Source Water Protection Zone.
Continuing efficiencies in production techniques has achieved a 30 per cent reduction in water use per litre of product since 2008.  This alone has saved 263,906 units of water, enough to fill 106 Olympic size swimming pools or nearly 800,000 cans of Coke.
IKEA
Type: Retail
Location: Belfast
IKEA which opened its first store in Ireland at Holywood Exchange, Belfast in December 2007 has excellent sustainability credentials. The store's huge 30,000 square metre roof harvests rainwater throughout its entirety and uses it to flush the store's 49 toilets.  It is estimated that this mains water saving amounts to around 20 million litres per year.  Installing waterless urinals throughout the store estimates additional annual mains water saving of 450,000 litres of water per year. IKEA Belfast educates its staff and customers on the benefits of using energy efficiency products.  The store also has a dedicated Sustainability Leader who runs sustainability tours of the store for local schools and community groups.  IKEA Belfast was awarded Water Champion status in recognition of a number of water efficiency steps:
Monthly monitoring and reporting on mains and grey water usage.    
Bills checked for accuracy and any anomalies investigated.
Twice daily inspection of the store, checking for efficiency, faults and leaks.
Appointment of a store Sustainability Leader.
Installed a 30,000 square metre rainwater harvesting system on the roof of the store.
Installed waterless urinals throughout the store.
The store has a water management plan that is managed and developed by the store maintenance team.
The store has partnered with various sustainability groups and NI Water to promote World Water Day and other global events.
The store holds about 12 business events per year to showcase its water and energy efficiency approach to business.
IKEA Belfast welcomes three to four school and community visits per week to the store to be taken on its sustainability tour, where these groups are encouraged to become more aware of water and energy saving opportunities.
Benefits:
Significant environmental and economic savings through rainwater harvesting.
Raises staff awareness of the benefits of saving water with employees encouraged to actively support and implement environmentally sustainable best practices across the company both at work and at home.
Raises customer awareness of the benefits of saving water and offers an affordable range of water saving devices in store.
Encourages the local community, including schools, businesses and community groups to visit the store and educates them on the benefits of sustainable living.
Sainsburys
Type: Retail
Location: Northern Ireland
Sainsbury's has been awarded Water Champions status after it made a number of water efficiency measures. Sainsbury's has adopted a 'Respect for Our Environment' philosophy, with the aim of becoming the UK's greenest grocer through a commitment to do the right thing for the environment. Twenty commitments were outlined and in order to meet this aim, Sainsbury's '20x20 Sustainability Plan' was devised. It set an initial target to reduce water usage by 50 per cent per m2 of sales area across the estate by 2013/14 versus a 05/06 baseline which was successfully achieved.  Sainsbury's commitment to being a Water Champion has been recognised by the company being the first retailer to have been awarded the Carbon Trust Water Standard and winning the Energy Efficiency through Water Management Award at the Energy Awards 2013. Water efficiency steps taken by Sainsbury's include:
The new Bangor store has a rainwater harvesting system which is used to supply recycled rainwater to the toilets. This is now a standard feature in all new stores across the Sainsbury's estate.  A number of stores also have water reclaim devices in their car washes;
Installed water saving devices such as low flush toilets, waterless urinals, percussion taps and energy efficient dishwashers where feasible, in its NI stores;
Analysed billing data to help identify issues such as leakage within stores;
Carried out audits to identify leaks, shared consumption and faulty equipment and invested in solutions to remedy these; and
Invested in automatic meter readers to help quickly identify and respond to leakage issues.
Benefits:
Reduction of over 55 per cent against its 2005/06 baseline;
Reduced demand on local water resources;
Greater understanding of water usage within the estate;
Positive role model to others within the sector; and
Improved environmental credentials.
City Hotel Derry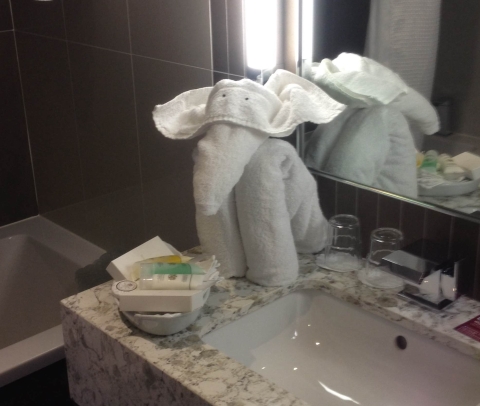 Type: Tourism and Leisure Industry
Location: Derry
The City Hotel, a large four star hotel on the banks of the Foyle, reduced its water consumption by 18 per cent over a six year period.  This was despite adding twelve new bedrooms and high visitor numbers during the UK City of Culture celebrations.
It did this by carrying out a review on energy usage within the hotel. This included reviewing water consumption because a large portion of its energy costs were tied up in heating water.  It discovered that staff didn't realise that the hotel paid for water because they didn't pay a water bill in their own homes.  To save water and save money the City Hotel:
Ran an education campaign to inform staff of the benefits of saving water;
Appointed an environmental champion in the hotel and a Green Team made up of staff from each department;
Trained staff in environmental policies and what to do if they spotted a leak;
Fitted energy saving showers, restrictors to taps and hippo bags in cisterns in all the hotel bedrooms;
Fitted restrictors to the public urinals to reduce wastage of water;
Installed a new water efficient dishwasher;
Installed its own water meter in the yard and recorded daily water usage because the main meter was inaccessible;
Placed a water pyramid in every hotel bathroom giving facts on how to save water;
Promoted the 'bag it and bin it' campaign to highlight to guests what can and can't be flushed down the toilets to prevent blockages and damage to the sewers; and
Installed a water butt outside for washing down the yard.
Benefits:
Financial savings of over £18,000 per year off the water bill alone;
Further potential savings off its energy bills;
Reduced water consumption through increased awareness;
Shows the public the hotel is serious about helping the environment;
Early identification of leaks through regular meter readings; and
Increased awareness motivated staff to raise £1,000 for WaterAid.
Moy Park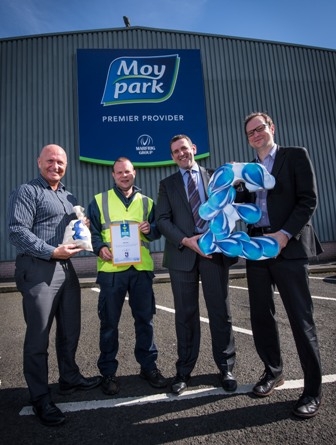 Type: Food and Drink Industry
Location: Craigavon, Dungannon & Ballymena
Moy Park is a top 10 UK food company and one of Europe's leading producers with three sites in Northern Ireland including its headquarters based in Craigavon. Over the past few years the company has achieved a substantial reduction in its water consumption by closely monitoring the water used throughout the production process, targeting investment and implementing significant behavioural and cultural changes across the entire business. Overall Moy Park's commitment led to an annual saving of over £135,000 in 2013. This is the equivalent to saving nearly 52 Olympic-sized swimming pools of water across its Northern Ireland sites.
Here's what Moy Park did:
Carried out a weekly mass balance of 'water in' and 'water out' at each site.
Installed automatic monitoring, targeting meters and software to provide a detailed analysis of water use at significant points in the production process.
Fitted flow meters to monitor water use.
Set daily and weekly key performance indicators (KPI) for water consumption.
Monitored KPIs in a divisional dashboard giving managers a weekly snapshot of performance.
Fitted water saving devices (pressure transducers and auto shut off solenoids) to prevent wastage of water when it is not required for production.
Appointed environmental champions at each site to monitor water usage on a daily basis.
Installed a water recycling project at its Dungannon site for washing lorries and outdoor areas.
Became a signatory to the Federation House Commitment, which aims to contribute to a reduction in overall water usage across the food and drink industry by 20 per cent by the year 2020.
Communicated positive feedback to employees, customers and stakeholders.
Benefits:
Significant environmental savings through water reduction.
Greater understanding of water use throughout the company's production process and highlighting key times of increased water usage.
Greater awareness of how factors such as seasonal changes can impact water consumption. Raised staff awareness of the benefits of saving water and encouraged employees to actively support and implement environmentally sustainable best practices across the company.
Acted as a sector role model e.g. case study on the Federation House Commitment website.
Attractive to stakeholders who have their own environmental sustainability targets.
Strathearn Grammar School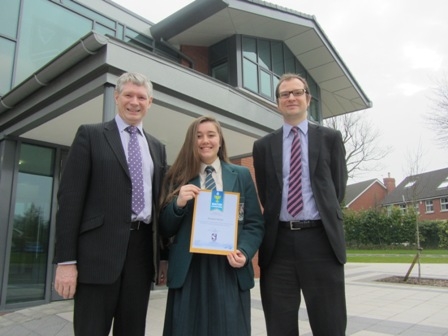 Type: School
Location:  Belfast
Strathearn is a grammar school situated in East Belfast, attended by about 770 girls aged from 11 to 18.  In March 2011 work started on building a 10,100m2 new school and a 1,600m2 refurbishment involving demolition of some of the remaining buildings on the existing campus.  As part of this work various water saving initiatives have been included in the new and refurbished buildings:
Low flush toilets installed in bathrooms;
Fitting tap aerators and sensor taps;
Water usage monitored on a weekly basis;
Locating and repairing leaks;
Water turned off centrally in science labs at end of classes to prevent wastage;
Talks on importance of water efficiency delivered to all year groups;
Rateable allowance checked on water bills;
Eco-school committee encourages peers to reduce water usage; and
Rainwater harvesting to be installed in final building phase from 2014.
Benefits:
Educating children on the steps that can be taken around school and the home to use water wisely;
Reduced water consumption through enhanced awareness and water saving devices;
Early detection of water leaks through regular checks; and
Financial savings through reduced consumption.
Victoria Park Primary School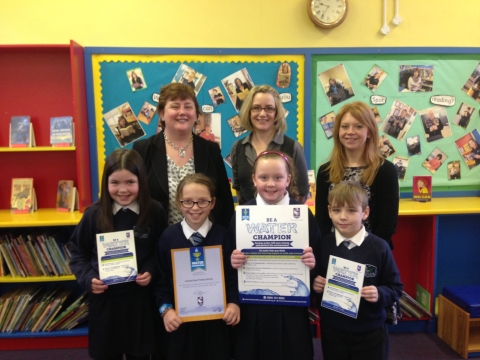 Type: School
Location:  Belfast
Victoria Park Primary school opened in September 2008 after the amalgamation of Sydenham Infants' and Strand Primary School.  It serves the Sydenham area of East Belfast and caters for around 330 children between the ages of four and eleven.
A new purpose built school opened in autumn 2014, with various water saving initiatives:
Low flush toilets, tap aerators and sensor taps installed in new build bathrooms;
An eco committee;
Regular checking of bills;
Water butts at the new school building; and
Water efficiency messages included as part of topic work in P6 & P7 classes.
Benefits:
Educating children on the steps that can be taken around school and the home to use water wisely;
Reduced water consumption through enhanced awareness;
Early detection of water leaks by regular checks;
Financial savings; and
Links with Consumer Council staff through the Time to Read Initiative.
Wilson's Country Foods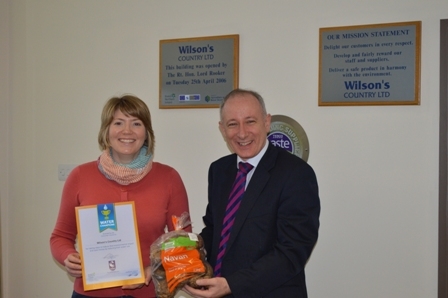 Type:  Agri – Food Industry
Location: Craigavon
Wilson's Country Foods is based in Craigavon and employs around 90 people. It supplies fresh pre-pack potatoes to local supermarkets and fresh peeled potatoes to Food Service Distributors across Ireland. The business handles approximately 800 tonnes of potatoes per week that all require washing so there is a significant demand for water.
As the business has grown over the past few years, so has the demand for water. The Company with support from Invest NI investigated how it could improve its environmental performance. Steps taken include:
Carried out a water balance in 2010 to understand the use of water throughout the business.
Installed a water recycling plant in 2012.
Introduced team meetings with a range of staff which helped raise awareness of the importance of water efficiency to the business.
Examined the seasonal needs for water in the process.
Embedded environmental awareness into the culture of the company.
Regularly measure water use at different points in the process.
Benefits:
Recycle approximately 15 olympic sized swimming pools of water every year.
Financial saving of over £70,000 per year.
Reduced the amount of effluent discharged from the site.
Quickly aware of any leaks or increased use in water within the process.
Improved awareness amongst staff.
Gateside Farm
Type: Agricultural
Location: Near Coleraine
Gateside Farm near Coleraine is a 130 acre mixed farm run by John and Rhonda Lynn. It was the first farm to receive the 'Water Champions' accolade.
When John took over the farm in 2006 he found that it had a very old, disjointed water system. It had four roadside water meters and the pipe system consisted of a mixture of very old metal pipes and different sizes of plastic pipes. It also had old baths for water troughs which were a continual source of water leaks and needed regular maintenance.
To save water John:
Installed a new water supply system and 20 new concrete drinking troughs;
Mapped the location of the new pipes and noted the location of all new joints; and
Initiated weekly recording of water consumption, livestock numbers and rainfall.
Benefits:
Financial savings due to reduced leakage rates;
Easy monitoring of water usage;
Easier maintenance of water equipment; and
Quick identification of location of pipes to easily find and repair leaks.
BBC Northern Ireland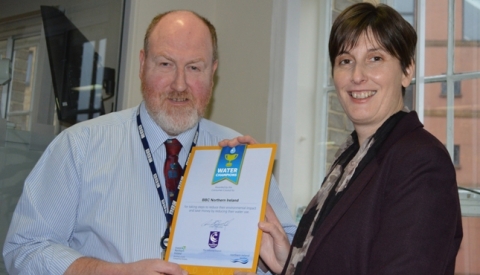 Type: Broadcasting & media organisation
Location:  Belfast
BBC Northern Ireland has been awarded the Water Champion accolade after reducing its annual water consumption by 27 per cent between 2008 and 2013.  This significant reduction was achieved through a combination of fitting water efficient sanitary-ware and raising staff awareness of water efficiency. The BBC started monitoring water consumption at its two main Belfast sites in 2008 and took the following actions:
Carried out an initial assessment of the average water consumption of appliances within their buildings, eg toilets, urinals, hand basins, kitchen;
Installed various water saving devices, including flow restrictors to taps and hippo bags in toilet cisterns;
Fitted low flush toilets, sensor taps and waterless urinals during the refurbishment of Blackstaff House in 2010;
Kept staff informed and educated about the changes;
Replaced eight flushing urinals with waterless units in 2013 in its other city centre building;
Installed building management system alarms to warn if a leak occurs or a valve jam opens;
Regularly read and record meter readings to assess changes in water use;
Provide catering staff with regular environmental awareness training; and
Maintenance staff are periodically briefed about water consumption.
Benefits:
Reduction of 3,000 litres/day at Blackstaff House;
Reduction of 7,000 litres/day at Broadcasting House;
Staff awareness of the importance of saving water;
Early detection of leaks through regular checks and building management alarms; and
Establishment of regular meter readings to monitor consumption and identify any changes.