The Post Office network is the largest retail chain in NI currently with an estimated 480 branches across the province.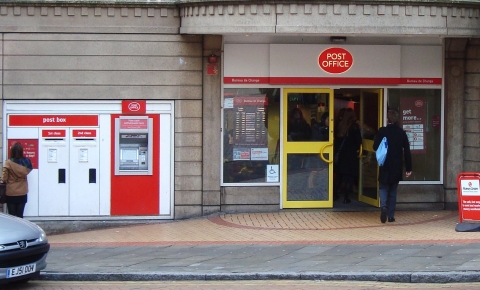 The Post Office network provides access to essential services such as mail services, pensions and benefits, access to cash, banking facilities, bill payments services and government services such as the passport check and send service.
Post Offices are not part of Royal Mail. However Royal Mail uses Post Offices as an access point for universal postal services. Therefore Post Office branches act as a retailer for many of Royal Mail's postal products and services.
Network Transformation Programme
The post office network is going through a modernisation programme which will see many post offices change to different operating models and perhaps locate to nearby retail outlets. These new models are called Post Office Local and Post Office Main.
A Post Office Local is located in a retail business such as a local shop or petrol station. It typically opens the same hours as the retail business and post office are offered from the main retail counter. Therefore you should be able to access post office services over longer opening hours. However, there are some services you will not be able to access such as car tax renewals, passport applications and some international parcel products.

A Post Office Main is typically located in larger retail businesses like supermarkets. Post Office services are offered from a dedicated post office counter and the retail counter. The full range of services are available and in many cases over longer opening hours.
Make you or your communities voice heard and ensure you do this within the consultation period
If you are concerned about any proposals talk to your neighbours, local elected representatives, small businesses that use the Post Office and other community organisations. Tell Post Office Limited about your individual and collective views or any suggestions that you have to improve the proposals. To view current Post Office Consultations please click here.
Unhappy with the service at the post office? How to complain
If you are unhappy with the service you have received at the post office you can:
Write to Post Office Ltd customer services at:
Post Office Customer Care 
FREEPOST
PO Box 740
Barnsley
S73 0ZJ
Complete Post Office Limited's online complaint form by clicking here.
Contact Post Office Limited by telephone on 0845 611 2970 or textphone on 08457 22 33 55